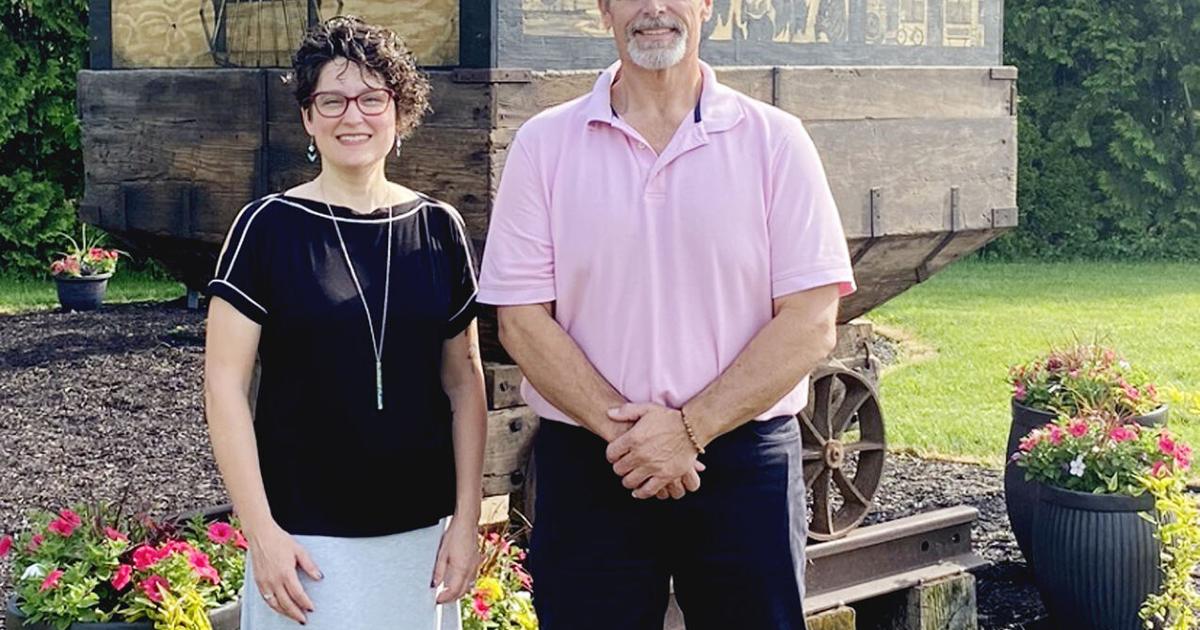 MILLERSBURG — Local resident and wood stain artist Angie Thieszen recently completed the Railroad Grain Cart on display in Millersburg.
Benjamin D. Eldridge, superintendent of utilities for the town of Millersburg and founder of Enhancing Millersburg, shared that the cart was donated to the town by local farmers a few years prior in hopes of someday being put on display.
"A few years ago, Enhancing Millersburg received this old grain cart that was used by local farmers in the late 1800s and early 1900s on the railroad here in Millersburg," he said. declared. "We wanted to display it in town, but we couldn't decide the best way to do it.
He explained that after speaking with Sonya Nash, director of group and experiential sales and marketing for the Elkhart County Convention and Visitors Bureau, Thieszen might be a good fit for the project.
"I wanted Angie to take this piece of our community history and improve it in a way that it tells a story about Millersburg's past, shows our pride of where we are now and looks forward. future," Eldridge said. "Angie hit the nail on the head."
Thieszen shared that she enjoyed her time working on this piece for the city.
"It was a joy to work on this piece," she said. "I love learning about the history of places so it was great to look at all the photos and read the notes the town has about life here in the early years. . Being able to capture that in a visual way for others can enjoy it in a public space is always a victory.
The hope behind this piece of wood stain art is to display a way for the community to not only unite, but to look into the past and see its beauty.
"The purpose behind the artwork chosen was to help the community reflect on the history of the town as well as move forward with what Millersburg still enjoys and has to offer. of Millersburg in the early 1900s and I chose a few to illustrate on the hopper," Thieszen said. "The railroad was essential to business and community then, so it was an appropriate theme to focus on."
Eldridge ended with his thoughts on the community's perception of the project. He shared that there has been an outpouring of support and appreciation for the piece.
"So far, the community support and reaction to the project has been exactly what we wanted," he said. "We've received a ton of positive feedback. I often see cars slowing down to take their time looking at the art project, and I often see residents sitting on the park benches at the site observing the project and to relax.
For more information on the railroad's grain cart display, visit millersburgin.com.