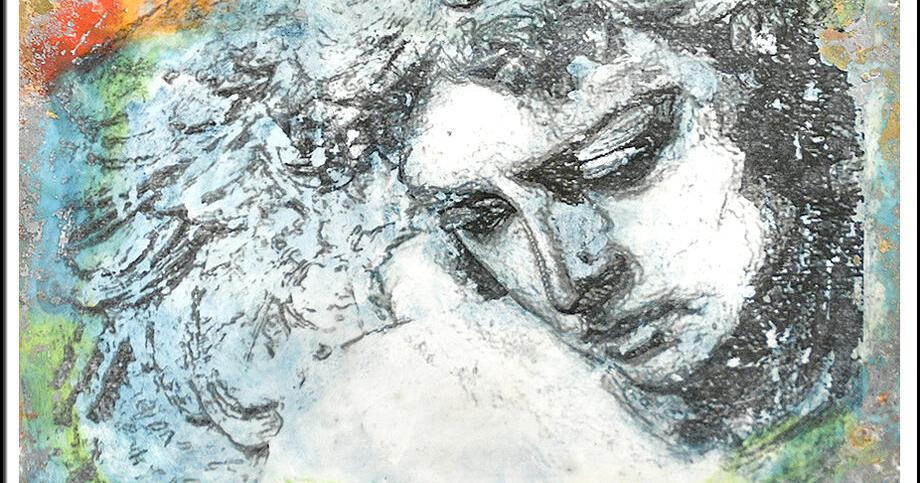 JOHNSTOWN, Pennsylvania – The joyous celebration of the beginning of life is on display in this creative collection.
"Genesis," an exhibition by Johnstown native Eva Trout, is on view through April 21 at the Gallery on Gazebo, 140 Gazebo Place, downtown Johnstown.
The pieces in the collection express a sense of hope in vibrant colors, textures, shapes and lines.
Trout, who resides in Canonsburg, Washington County, said the abstract seascape work is inspired by Genesis 1:1-3 and the soaring energy of spirit in creation.
"Most of the work on this show is from my 'Genesis' series, and I've been working on that series for about 15 years or more," she said.
Trout said that for many of those years she worked with the medium of encaustic, a wax-based paint.
"It's a hot process where you melt the wax," she said.
"I make the paint, and it's wax and beeswax and varnish that you melt and work hot and work in layers with a heat gun or a blowtorch and blend each layer."
The exhibition includes an encaustic piece inspired by the biblical verse.
"If I look at the creation story, it was God brooding and loving what was absolute chaos and disaster," Trout said.
"He said, 'Let there be light,' and it was good. If I look at the story of creation, I see the very energy of creativity, and the very essence of it is love.
She said the remaining 17 pieces of the show are oil paintings.
"It's abstract seascapes, and I work as a process painter, and it's similar to some of the abstract expressionists and how they went about painting and looking at the process, the scraping and the creation of brands," Trout said.
The exhibition also includes expressionist floral paintings.
"Through the use of vibrant color, heavy paint and the garden as a metaphor, my expressionist flower series has a similar motivation to communicate a hope and yearning of creation for the coming attainment of eternal glory upon earth as in heaven," Trout said.
Trout attended Pennsylvania Governor's School for the Arts and received a BFA from Temple University's Tyler School of Art and Architecture, majoring in painting, drawing, and sculpture.
She received missionary training with an emphasis on the arts, serving as a missionary with Youth With A Mission and other organizations.
For the past 25 years, Trout has worked as a professional exhibiting artist, exhibiting her work in galleries and museums in the Pittsburgh area and beyond. His works are also part of several corporate and residential collections.
She also taught and served as head of the art department at Philadelphia Montgomery Christian Academy.
For more than 10 years, Trout worked as international missions director at Covenant Church, Pittsburgh, where she received her ordination. She has led creative activities in various contexts and has traveled the world, leading creative missions in the Americas, Africa, Europe and Asia.
In 2017, Trout and her husband, Scott, purchased and renovated an older building in Carnegie, Allegheny County, where her retail gallery and teaching studios, Firebox Art Studios, are located.
The gallery hosts the works of more than 20 professional artists, as well as his own.
Trout is a member of the Associated Artists of Pittsburgh, the Pittsburgh Society of Artists, and the National Association of Women Artists.
Gallery director Rosemary Pawlowski said she was delighted Trout was making her gallery debut in Johnstown.
"His work blows your mind," she said.
"It's so dynamic and you can see so many things in it. It's creative and absolutely fascinating, especially her encaustic work, because it's intense and very laborious and she executes it beautifully.
Pawlowski said viewers of Trout's work will bask in the vibrancy.
"They appeal to you so much and his work appeals to people," she said.
"I think once you see it, you'll come back to watch it again. You take a step back and try to understand what she puts into it and what you get out of it.
To celebrate the exhibition, an opening ceremony will take place from 2 to 5 p.m. on Sunday.
After a tour of the gallery, Trout will present an artist talk at 3:30 p.m. and talk about her art and the pieces in the exhibit and how she fulfills her role as a missionary, through her art, to help others.
"I urge artists who are trying to find their way and need promotional activities or career path ideas to come and engage with her," Pawlowski said.
"She is a great role model and is interested in artists who reflect on how their art affects and helps others."
Light refreshments will be served.
The reception is free and no reservation is necessary.
Trout said she hopes those who see her work will enjoy it visually.
"People can interpret whatever they want. They are what they are, and that's how I take it," she said.
"I also hope they like it and can embrace contemporary work and be open to it."
There are no admission fees.
Gallery hours are 2-7 p.m. Thursday-Sunday.
For more information, call 814-539-4345 or visit www.galleryongazebo.org.