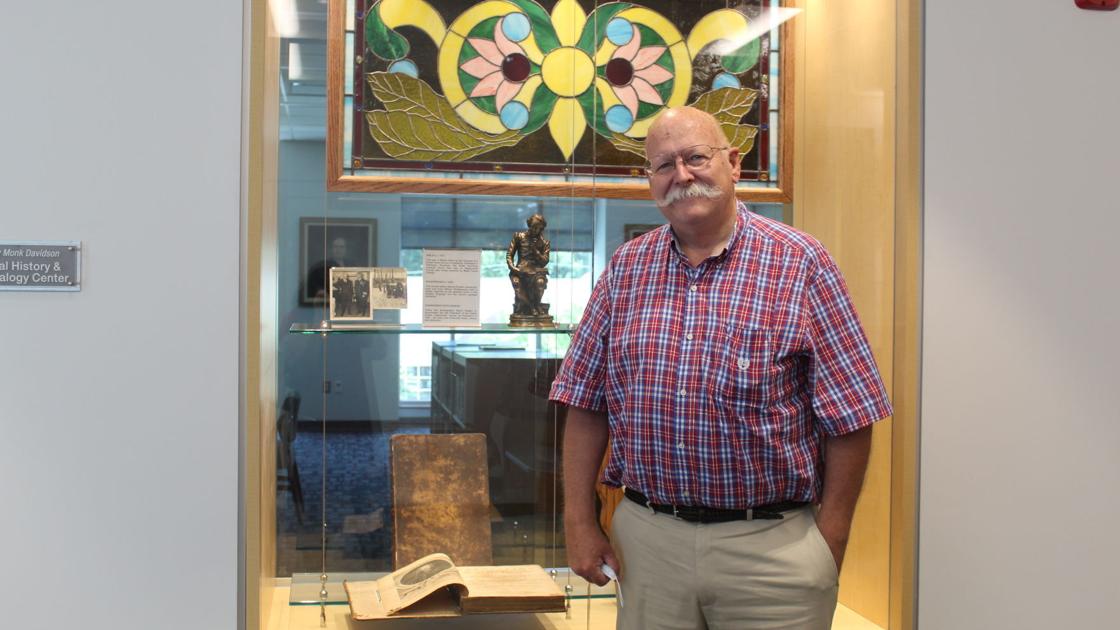 FARMVILLE – Inside the oldest house in the historic Farmville district, the May Museum houses some 10,000 artefacts and 20,000 photographs to showcase the town's history. But a significant recent addition to the museum can be found out of sight behind a desk in the museum office.
Artist and historian Roger Kammerer, a popular guest lecturer at the May Museum, took office in August as the new director. Kammerer, 64, fills a dual role as a genealogy researcher at the Emily Monk Davidson Local History and Genealogy Center at the Farmville Public Library.
City Manager David P. Hodgkins said Farmville is fortunate to have such a renowned area historian at the helm of its museum.
"The May Museum is a historic gem here in town," Hodgkins said. "We were delighted that he was interested in coming to work with us. Mr. Kammerer obviously brings a wealth of knowledge to Farmville. I would consider him an expert on the Farmville families and genealogy of the Farmville area and probably all of Pitt County.
So how did a native of Nebraska who came to East Carolina University to study art end up with such knowledge of the history of eastern North Carolina? Kammerer credits his research skills to his mentor in high school, but his love for history goes back even further.
The eldest son of a Marine Corps family, Kammerer moved from California to Swansboro in 1962, where he spent much of his youth with his grandmother while his mother worked and his father served in Vietnam. A quiet child, he was an avid reader who sometimes hid behind a chair to find himself alone with an encyclopedia. Even at a very young age, he often preferred conversations with adults to childhood games.
"When the adults all got together, all the children had to leave; all the children had to go out and play, "Kammerer recalls. "I was standing in the doorway and if I was really quiet I could sit on Mom's or Dad's lap (to listen).
"I wanted to suck everything up and I remember those stories," he said. "My brothers and sisters who were there at the same time don't remember so much because they didn't care. Luckily, I was a strange kid who loved and remembered it all.
As a teenager, Kammerer had a passion for the past that stretched beyond family histories to family trees. Historian Tucker Reed Littleton, who gave his name to the Littleton Collection of the North Carolina State Archives, introduced Kammerer to genealogy, and the rest is history.
Kammerer, who came to Greenville in 1974 as an art student, spent much of his time extracting information from the historical records of the ECU, thus aiding Littleton's research. Long before ancestry.com helped popularize genealogy, the mother of a college friend asked Kammerer to help her trace her ancestry, which sowed the seed of her interest in family trees. of Pitt County.
In 1984, he became a founding member of Pitt County Family Researchers, a local genealogical group, and later served as editor of its award-winning quarterly journal. In 2020, Kammerer was inducted into the Servire Society at ECU in honor of his service to the university and to the community. He wrote about a dozen large genealogies for the families of Pitt County, including a Tyson-May book that included the original owners of the house that would later become the May Museum.
"I'm very interested in everyone's family," he said. "It's (like) Sherlock Holmes. You gave me a mystery to work on. It is as if people were doing their jigsaw puzzles every day. (If) you give me a new mystery every day, I have something to look forward to. Let me see if I can find the answers, and in general I can. "