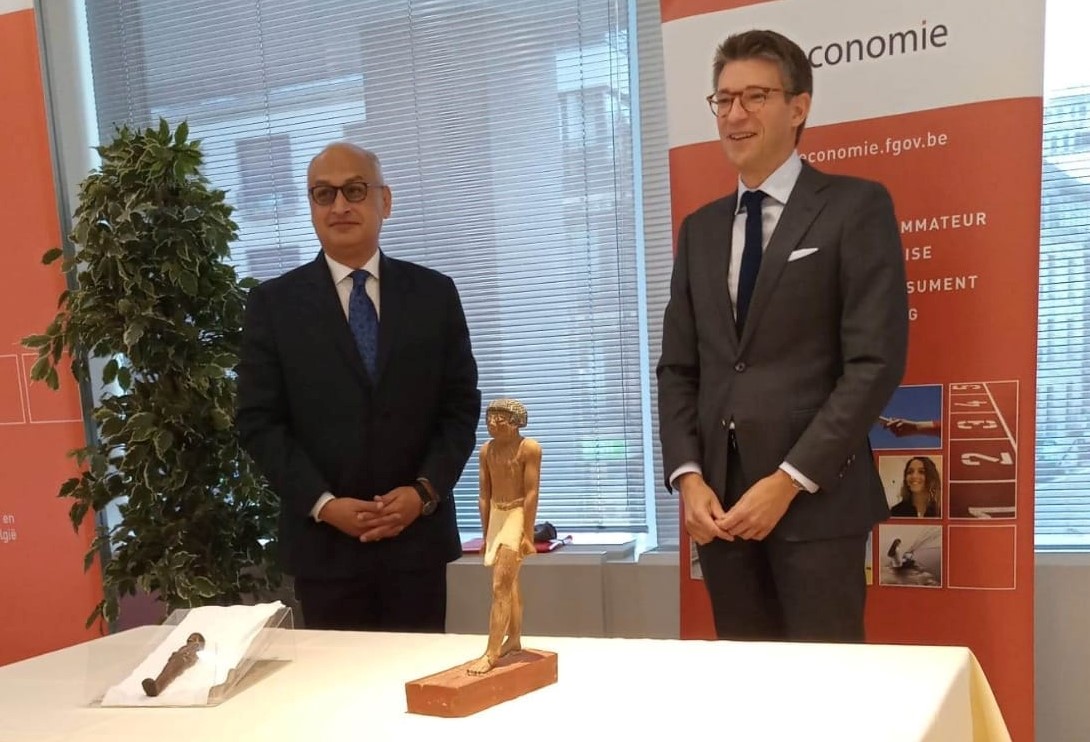 Belgium sent two ancient Egyptian artifacts to Egypt on Saturday that had been smuggled out of the country.
Artifacts recovered include a colorful limestone statue of a standing man resting on a base dating from the Old Kingdom, and another earthenware ushabti figurine that dates back to the end of the period.
They were received by the Egyptian Ambassador to Belgium, Khaled al-Baqly, during a ceremony organized by the Belgian Ministry of the Economy according to the precautionary measures applied to deal with the coronavirus.
The ceremony took place in the presence of the Deputy Prime Minister, Minister of the Economy and Labor of Belgium, as well as several representatives of the Belgian government.
A statement from the Egyptian Foreign Ministry said on Saturday that it was part of Egypt's tireless efforts to restore all antiques smuggled abroad in order to preserve the nation's heritage.
The Ministry of Foreign Affairs cooperated with the Ministry of Tourism and Antiquities and the Attorney General's Office to help bring in the artifacts. The statement also credited the continued efforts of the Egyptian Embassy in Brussels with the relevant Belgian authorities to recover the contraband artefacts.
Baqly stressed that this event represents the distinguished relations between Egypt and Belgium and paves the way for greater coordination, especially in the recovery of contraband Egyptian antiquities.
The Egyptian Ambassador to Brussels also invited the Belgian people to visit tourist destinations in Egypt and learn about the history of the ancient Egyptian civilization which has long been a tributary of science, culture and art around the world and throughout history.
Baqly praised the efforts of the various Egyptian authorities, be it the Ministry of Foreign Affairs, the Ministry of Tourism and Antiquities and the Public Ministry who have worked together to recover the artefacts and will continue to work to recover other antiquities. contraband.