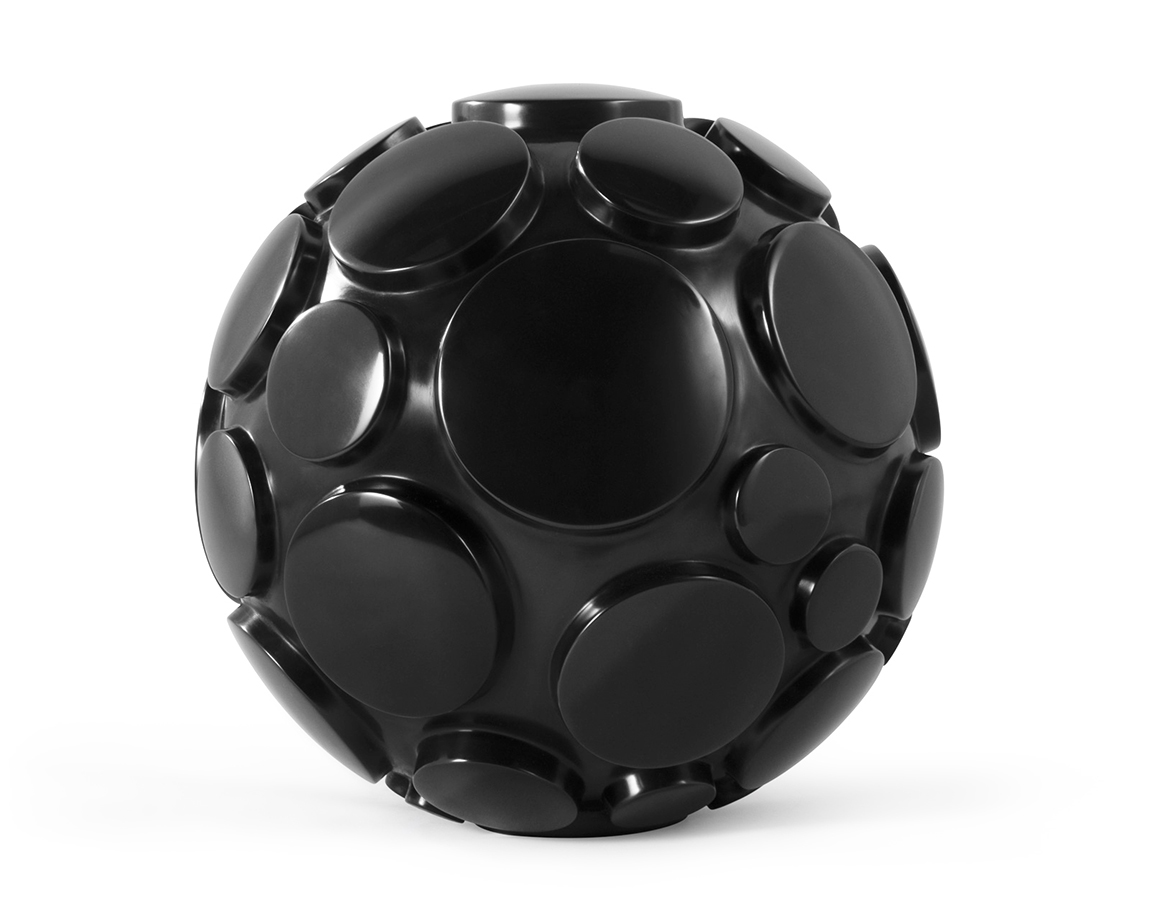 New Martin Art Gallery exhibition: "Funny Ball"
Sculptor and installation artist Claire Lieberman explores the relationship between play and conflict in contemporary culture.









Thursday, March 10, 2022 8:56 AM


Fun Ball by Claire Lieberman. Photo by Ken Kashian, 2022.
A new exhibition by a multidisciplinary artist Claire Liberman is presented in the main exhibition space of Muhlenberg College Martin Art Gallery.
FUNNY BALL works on March 10–April 9. An opening reception will be held from 6 to 7:30 p.m. on Thursday, March 10.
Lieberman's solo exhibition features highly polished black marble sculptures installed in a dynamic, playful format and related cast paper prints. Her project explores the relationship between play and conflict in contemporary culture. The exhibition catalog includes an essay by Nancy Princenthal.
While on campus, Lieberman held a stone carving workshop for advanced sculpture students.
Lieberman is a sculptor and installation artist who combines materials such as marble, Jell-O and video. According to her website, her work explores a range of dichotomies, including "the sublime and the eccentric, desire and danger, indulgence and guilt."
Lieberman is also known for her prints and sculptures of glass toy guns. His glass pistols and photographs can be found in the new book, Loaded: Firearms in Contemporary Art by Suzanne Ramjlak and Schiffer Publishing 2022. UDBO – Beautiful Unidentified Dangerous Objects is a book about his sculpture published with Massey Klein Gallery.
She has had solo exhibitions at Massey Klein Gallery, NYC; Gebert Contemporary, Scottsdale; Hotwood Arts, Brooklyn; THE LABORATORY, NYC; Marcia Wood Gallery, Atlanta; PDX, Portland; Seoul Art Center, Korea; the University of Alaska, Anchorage; Anderson Gallery, Virginia Commonwealth University; and the University of Southeast Louisiana.
Lieberman recently exhibited in line of sight. mortal vision, mudac museumLausanne, Switzerland, who traveled as I am Visier, at Forum Schlossplatz, Aarau, Switzerland. Group shows include ReverieMassey Lyuben Gallery, New York, NY; Mein lieber Schwan (My dear swan)ACC Gallery Weimar, Germany; The Food Fair: The Hungry EyeChelsea Art Museum; RebellParker's Box, Brooklyn, NY; New prints at the International Print Center, NY; and IMPULSE New York with the Marcia Wood gallery. His work has been written in Sculpture magazine, The New York Times, art on paper and ART news.
Lieberman received awards from MacDowell (2022); Escape to create (2022); The Arctic Circle, territory of Svalbard; National Endowment for the Arts; International City of Arts, Paris; Wasteland La Belle de Mai, Marseille, France; Künstlerhaus, Salzburg, Austria; and Yado.
the Martin Art Gallery is located in the Philip Johnson-designed Baker Center for the Arts on the campus of Muhlenberg College in 2400 Chew St, Allentown PA 18104. The Martin Art Gallery is open Tuesday through Saturday, noon to 8 p.m., and the gallery's Galleria space is open daily, 9 a.m. to 11 p.m.
All exhibitions and programming are free and open to the public. For more information, please contact gallery director Paul M. Nicholson at [email protected] or 484-664-3467.