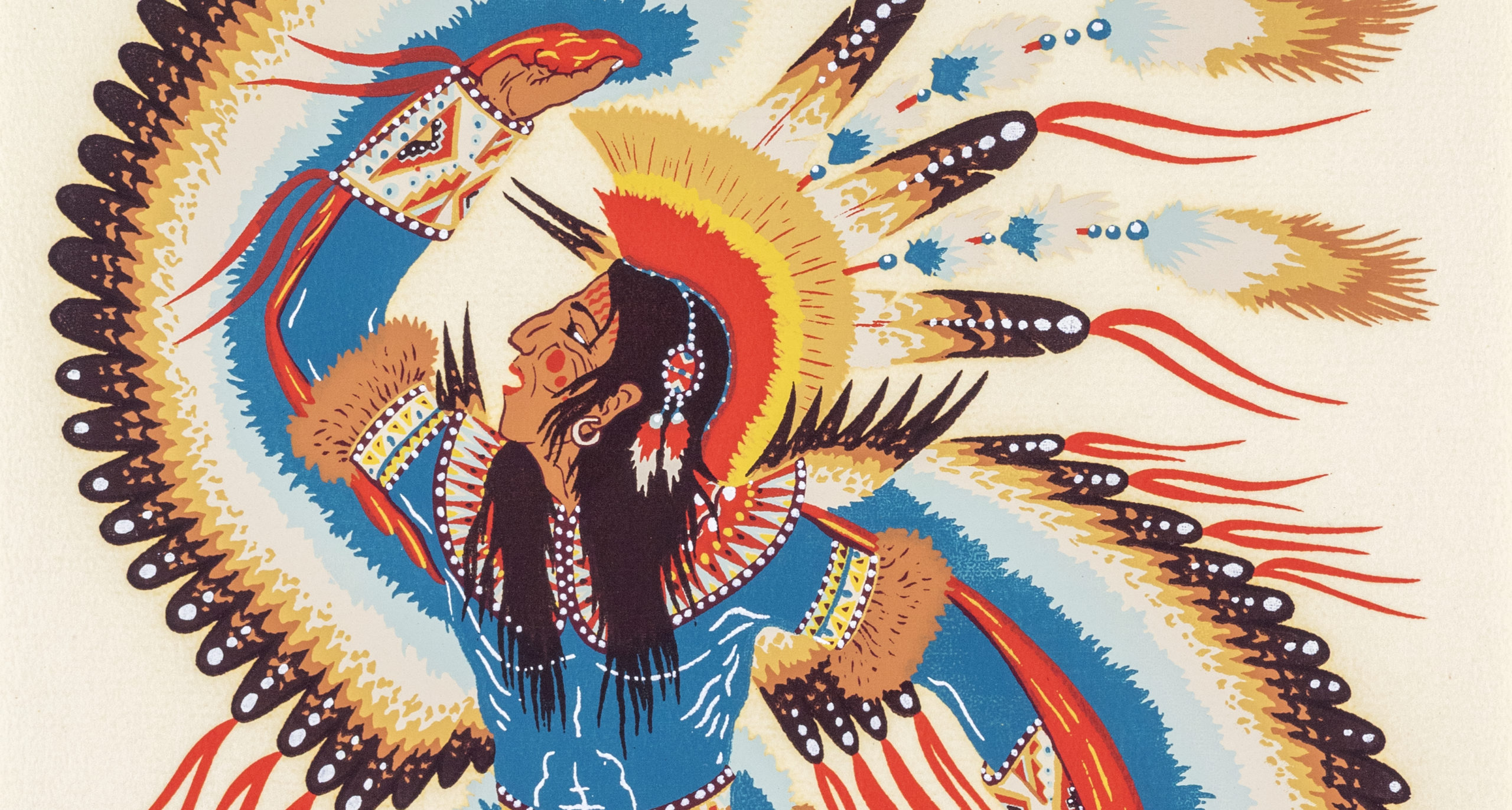 Long before Bulldogs roamed the land, the land now recognized as Athens and its surrounding areas had been occupied and cultivated by the Cherokee, Muscogee (Creek) and Yuchi tribes for thousands of years. Thanks to a series of treaties and the Indian Removal Act of 1830, these tribes were stripped of all land ownership and forced to travel thousands of miles along the Trail of Tears to Federal Territory in the west. of the Mississippi River. Many did not survive, but those who took new roots to ensure that their future generations did not disappear.
Currently on display at the Georgia Museum of Art through January 30, "Collective Impressions: Modern Native American Printmakers" offers a chronological overview of influential Indigenous artists active in the second half of the 20th century. Paper as the chosen medium subverts its complicated past as a material used by Westerners to control and displace native tribes. Providing a means of social commentary and experimentation, the collaborative and community nature of printmaking resonates with the principles of reciprocity and intergenerational transmission of artistic knowledge.
November is National Native American Heritage Month, a presidential proclamation to honor and celebrate the cultures, ancestry, traditions and unique contributions of Indigenous peoples. This week also coincides with the 400th anniversary of the 1621 harvest festival between the settlers of Plymouth and the Wampanoag tribe on which today's Thanksgiving is modeled. The fictionalized and whitewashed narrative of the origins of the holiday fails to recognize the slow-burning genocide that ensued, characterized by fragile alliances, rampant disease, brutal massacres, forced slavery, and total dispossession – of the homeland, language, identity, autonomy – experienced by an overwhelming majority of natives.
"Collective Impressions" asserts that the history of Native Americans is American history and several works of art address relevant ideas about history, memory, belonging, and exile. The erasure of Indigenous narratives leads to the invisibility of Indigenous peoples, which is why it's so important that exhibits like this provide a platform for these diverse voices. By including artists from different tribes from different geographic regions, each with their own unique style and approach to printmaking, "Collective Impressions" helps break down stereotypes and demonstrates the rich cultural impact these tribes continue to have on society. contemporary American.
On the cover of Flag pole this week, "Eagle Dancer" by Woody Crumbo (Muscogee / Potawatomi) depicts a sacred rite performed to demand divine intervention. This ceremonial dance was banned by the authorities in 1883, pushing these shows underground as acts of resistance. Crumbo was introduced to printmaking at the University of Oklahoma School of Art, which has become a training, production, and exhibition center for Indigenous artists.
Like TC Cannon (Caddo / Kiowa) and Fritz Scholder (Luiseño), Harry Fonseca (Maidu) uses humor to confront myths about Native American communities. His lithograph, "Rose and the Res Sisters", depicts an anthropomorphic coyote, a popular trickster who plays a role in Maidu origin stories and recurs in the folklore of several other tribes. Serenizing viewers in a pink rose-print dress, a microphone held by long gloved legs, she challenges viewers' perceptions of time, performance, and tradition.
Bobby C. Martin's (Muscogee) silkscreen print "Emigrant Indians # 1" overlays two separate maps of Kansas: a map of the tribal peoples displaced in the area from 1836 and a road map from 1950. In the center, a Snapshot from the early 1950s of a returning king and queen wearing full insignia. The play contemplates emigration, the dispossession of land and the search for a sense of belonging.
The exhibition highlights several of the major communities and institutions that have played a central role in the elevation of printmaking as a medium. On Thursday, January 20 at 5:30 p.m., painter Yatika Starr Fields (Osage, Cherokee, Creek) will give a talk on her work, focusing on a series of lithographs and monotypes made during a residency at Crow's Shadow Institute of the Arts. Located on the Confederate Tribes of the Umatilla Indian Reservation in the foothills of the Blue Mountains of Oregon, Crow's Shadow is a non-profit organization dedicated to providing a creative channel for educational, social and economic opportunities for Native Americans to through artistic development.
Along with the exhibit, the UGA's Creative Writing Program invited six graduate students — Chelsea L. Cobb, Nathan Dixon, Nathan Gehoski, Aviva Kasowski, Mike McClelland, and Hannah V. Warren — to record poems by When the light of the world was dimmed, our songs were heard: a Norton anthology of the poetry of the indigenous nations. Published in 2020, this landmark anthology was edited by American poet laureate Joy Harjo (Muscogee), UGA professor LeAnne Howe (Choctaw) and researcher Jennifer Foerster (Muscogee). Accessible by phone, each recording is associated with a different print to highlight the interrelationships between oral, written and visual traditions in Indigenous culture.
Established in 1785, the University of Georgia delayed its opening until 1801 due to the Oconee War, a violent conflict between settlers and the creek over access to the rich Oconee River. Although a few UGA departments have issued land recognitions in recent years to recognize the ancestral lands on which the campus now sits, the university administration has no formal requirements.
The recognition of the museum lands states, "We appreciate the enduring influence of the vibrant, diverse and contemporary cultures of Indigenous peoples. We are aware of the colonizing role that museums have played. We choose to hold ourselves accountable for the right conversation, representation, connection, and education to facilitate a space for measurable change.
Museums have always played an essential role in the preservation, promotion and representation of Native American culture, but have not always fully understood this. With several artists representing the Muscogee and Cherokee nations, such as Jerry Ingram, America Meredith, Virginia A. Stroud, Kay WalkingStick, Richard Ray Whitman, there is an opportunity to recalibrate.
In the accompanying guide to the exhibit, American art curator Jeffrey Richmond-Moll says, "Given that our university is on the ancestral lands of these tribes, this exhibit is therefore a crucial opportunity for Georgia. Museum of Art to reassess its collection, the broader historical canon of art and the institution's relations with indigenous communities.
Do you like what you just read? Support Flagpole by donating today. Every dollar you donate helps fund our continued mission to provide Athens with quality independent journalism.