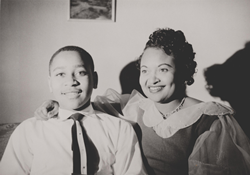 What I want families to take away from this is that we can learn from the past what NOT to do and we can improve race relations right now.- Reverend Wheeler Parker

INDIANAPOLIS (PRWEB)
September 19, 2022
'Let the world see what they've done to my boy,' are the heartbreaking words uttered by Grandma Till-Mobley who insisted on a coffin being opened for her 14-year-old black son who was brutally tortured and murdered for whistling at a White Woman in Money, Mississippi in 1955.
It all started in August 1955. Fun-loving Emmett Till looked forward to visiting his family in Mississippi. The 14-year-old grew up near Chicago and never ventured far from home. After stern warnings from his mother about racism and social etiquette in the South, he took a summer trip to visit relatives in Mississippi with his great-uncle and cousin, Wheeler Parker. This trip and a visit to the local store changed their lives forever. "They came out of the store and Emmett loved making people laugh – telling people jokes. The wolf hissed right outside the store and we could have died," said Reverend Wheeler Parker Jr., Emmett's cousin. Later, the husband and brother-in-law of the woman Emmett stalked abducted 14-year-old Emmett from his great-uncle Moses' house in the middle of the night. "I heard them coming. This guy came in, his name was Milam," Parker said. "He had a gun in one hand and a flashlight in the other. I was shaking, literally shaking like a leaf on a tree. For more of Reverend Parker's comments, click here (the password is silo2022).
This is just one of the memories you will hear from the last surviving eyewitness to the kidnapping and brutal murder of Emmett Till. The Emmett Till & Mamie Till-Mobley: Let the World See exhibition created by the Till family, Emmett Till and Mamie Till-Mobley Institute, Emmett Till Interpretive Centerand the Children's Museum of Indianapolis will travel to seven cities before going on permanent display just steps from where the trial for his murder in the Tallahatchie County Courthouse, Second District, in Sumner, MS. The exhibit chronicles how a mother's bravery and her fight for justice more than six decades ago fueled the civil rights movement in America. When Emmett's body arrived in Chicago, his mother insisted that a casket be opened so the world could see the ugly face of hatred and racism.
Historical markers set up near the Tallahatchie River (recognizing where Emmett Till's lifeless body was found) have been continually robbed, shot and vandalized. A sign made headlines after a group of University of Mississippi students posed in front of it with guns, then posted their picture on Instagram in March 2019. This gun-riddled sign will be on display to show that racism continues today as people. trying to destroy the memory of what happened to 14-year-old Emmett Till.
Reverend Wheeler Parker wants people to know, "History is history. It's not who we are today. What matters is what we choose to do with it today. So what are you going to do?"
Emmett Till Interpretive Center Executive Director Patrick Weems hopes this means people will take positive action: "Despite the repeated vandalism of these signs, our community has come together again and again to replace them and speak the truth about what happened to Emmett Till. . We believe that telling the truth about these acts of violence and injustice is the first step towards racial healing. These vandalized signs show how far we need to go in the fight against racism in our country. »
"Learning more about Emmett Till's story is difficult, but I believe that understanding what happened during the cruel and senseless tragedy is crucial for families to help people heal from prejudice and stigma. discrimination and to prevent senseless acts of violence today," said Jennifer Pace Robinson, President. , and CEO, The Children's Museum of Indianapolis.
Families will also learn how two of Emmett Till's murderers were tried and found not guilty in just 67 minutes by an all-white, all-male jury, despite eyewitness testimony from Emmett's great-uncle, Moses Wright. His killers later confessed and were paid $4,000.00 for their story by Look magazine.
Exhibit hosts will share conversation starters to help families understand and reflect on what happened in the Jim Crow era. There is also a Building Bridges workshop that will guide visitors to turn a fence into a bridge, symbolizing ways to break down racial barriers. A lead acting performance will feature a social justice educator and his reflection on the backlash he received after sharing Emmett Till's story with students.
Three years in the making, Emmett Till & Mamie Till-Mobley: Let the World See (http://www.emmetttillexhibit.org) The exhibit made its national debut at the Children's Museum in Indianapolis this weekend and will run through October 30, 2022. It will then make a historic tour across the United States, traveling to the Birmingham Civil Rights Institute in Alabama, Martin Luther King, Jr. Memorial Library in Washington, DC, Two Mississippi Museums in Mississippi, DuSable Museum of African American History in Illinois, Atlanta History Center in Georgia, and National Civil Rights Museum in Tennessee before reaching its permanent destination at the Emmett Till Interpretive Center in Sumner, Mississippi. This historical exhibit is recommended for ages 10 and up.
RECENT CHANGE

Learn about Emmett Till Historic Landmarks as part of the Civil Rights Trail and historic sites.
After 100 years and 200 failed attempts, a bill named the Emmett Till Antilynching Act was finally passed in March 2022. It criminalizes lynching and makes it punishable by up to 30 years in prison. Exhibit developers hope visitors will feel empowered to stand up against racial violence and make a difference in their own communities.
Memoirs of the Reverend Wheeler Parker:A few days full of boredompublished by Random House, out January 10, 2023, tells the story of his friendship and his quest for justice for his cousin and best friend, Emmett Till.
For more on Emmett Till's story, watch ABC's documentary miniseries titled, "Let the world see."
This project was made possible in part by The National Endowment for the Humanities: Democracy requirements wisdom, The Maddox Foundation in Hernando, MS, The Institute for Museum and Library Services [MH-249226-OMS-21]and The Historic Preservation Fund administered by the National Park Service, Department of the Interior [15.904]. The Children's Museum of Indianapolis is proud to partner with Riley Children's Health, Old National Bank, Ice Miller LLP and Heritage Group.
About the Emmett Till & Mamie Till-Mobley Institute

The Emmett Till and Mamie Till-Mobley Institute, a non-profit organization, is committed to research and advocacy for social justice. We are committed to preserving the memory and historical significance of the life and death of Emmett Louis Till, and to preserving the social action legacy of his mother, Mamie Till-Mobley, to foster educational opportunities and life. civic engagement among young people. Our goal is to fund research, education and public programs aimed at encouraging informed participation in the democratic process and working to build and sustain a civil society. For more information on the Till Institute, visit http://www.tillinstitute.org.
About the Emmett Till Interpretive Center

The Emmett Till Interpretive Center was established to confront the brutal truth of the 1955 murder of 14-year-old Emmett Till in the Mississippi Delta and to seek justice for the Till family and the Delta community. The Center aims to tell the story of Emmett Till and his mother, Mamie Till-Mobley, as an act of restorative justice to create the conditions necessary to begin the process of racial healing in Mississippi and across the country.
About the Children's Museum of Indianapolis

The Children's Museum of Indianapolis is a nonprofit institution committed to creating extraordinary learning experiences in the arts, sciences, and humanities that have the power to transform the lives of children and families. For more information on the Children's Museum, visit http://www.childrensmuseum.orgfollow us on Twitter @TCMIndy, [email protected], YouTube.com/IndyTCM and Facebook.