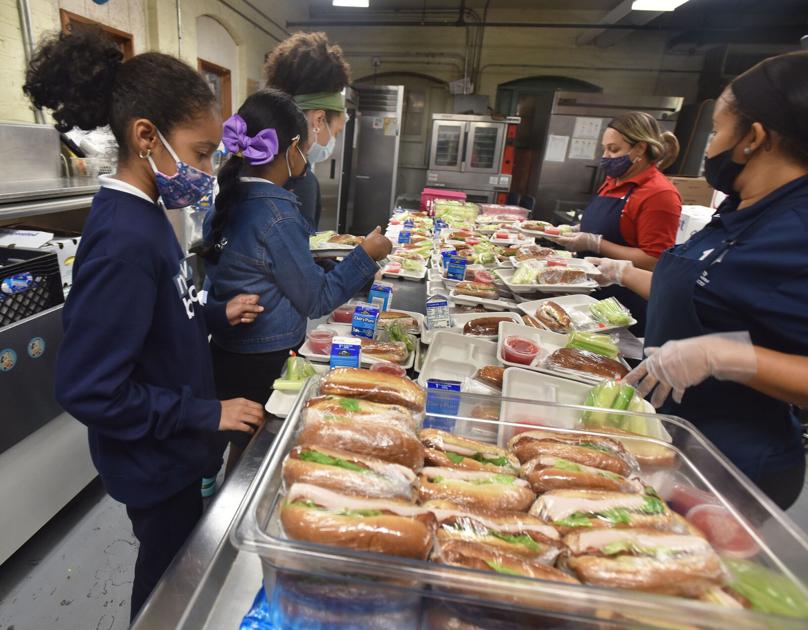 LAWRENCE – In hot weather, kids run and play during gym class in a paved and fenced area at Leahy School. But once the colder temperatures set in, or even if it rains, physical education becomes a class topic on health topics because there is no gymnasium.
Leahy's teacher, Reading Specialist Trisha Antalek, has a cramped workspace tucked away in the corner of a basement room. A small door opens into a small dungeon-like storage area behind it. Antalek also regularly sees mice running around and puts out peppermint to keep them away.
Shelley Fabrizio uses a combination of plastic containers in a corner of her classroom to hold water to clean the brushes. She has to carry the water herself because there is no sink in the classroom for the veteran art teacher.
School meals are to be stacked on top of each other in Leahy's small kitchen. Every available space, whether under a stairwell or in a toilet, is used to store school paper cartons. Four trailers parked outside are also packed.
"There isn't a corner that isn't being used," said Patricia Mariano, retired principal of Leahy School, an educator for 40 years and a current member of the school committee.
Mariano is a driving force behind the construction of a new $ 103.7 million Francis M. Leahy school. At 100 years old, the Erving Avenue building is home to some of the city's and state's poorest students, said current manager Ethel Cruz, who is also supporting the construction project.
Of the price of $ 103.7 million, some $ 61.3 million in funding is available from the state school building fund. But for the project to move forward, voters must approve a tax waiver to borrow $ 42.4 million to fund the remainder of the project. A question about the Leahy project is on the ballot on November 2.
Mariano urges residents to vote yes and noted that the project will reduce overcrowding at Leahy School and also combine students from Lawlor School and upper classes from Leonard Schools with a total of 1,000 seats.
The new school, which will be built on Leahy's current property, will have a rooftop play area, indoor gymnasium, science and technology labs and equipment, arts and music spaces like the current ones. available to students at Wetherbee, Guilmette, Parthum and South Lawrence East schools, Mariano said.
The impact of the $ 42.4 million loan over 20 years will add $ 130, or $ 32.50 per quarter, to the tax bill for an average single-family home in the city, said Mariano.
The tax increase for a two-family home will be $ 175, or $ 43.75 per quarter, the three-family home, $ 199 or $ 49.75 per quarter, the condominium, $ 70 or $ 17.50 per quarter, commercial , $ 466 or $ 116.50 per quarter and industrial, $ 1,371 or $ 342.75 per quarter.
Mariano said the students "deserve a school building where they can learn and thrive. Voting yes to question 1 will ensure that we are able to mobilize $ 60 million in public funding to create a quality and safe environment for our students that promotes student learning and growth.
The state is also funding two other projects in Lawrence; $ 49 million for a new police station and almost half of the $ 132 million for the new Olive Partnership school.
The Lawrence Teachers Union is supporting the project, said Kimberly Barry, union president.
Cruz and Mariano, during a visit to the school this week, noted that current teachers at Leahy School have little space to work in the current rooms, including little or no storage or storage space. areas to socially distance their students.
The school cafeteria is packed for five separate lunch periods. and breakfast is served daily at school in individual classrooms, after which students have to throw their rubbish in large buckets in the hallway. Leftover milk should be poured from the carton through a colander into a white bucket. Buckets and containers are placed in various places around the school due to leaks. Water marks on the walls and ceilings are both evident and have been repainted, Cruz noted.
Disposable towels, cups and bowls are stored under the stairwells. WB Mason boxes filled with white paper, construction paper, and childcare materials are stacked in the boys' bathroom.
"Whatever is here, we can't put it outside," said Cruz, pointing to the four portable storage trailers in the school yard.
The school library, in the basement, has been completely redesigned into four small classrooms for teachers specializing in reading and writing.
Despite the tight spaces and the challenges she presents, Cruz stated that she loved school and everyone. She called her staff "wonderful", noting that many of them have been teaching at the school for a long time.
"They love children. They love our families. They love what they're doing, "said Cruz.
Follow reporter Jill Harmacinski on Twitter @EagleTribJill.