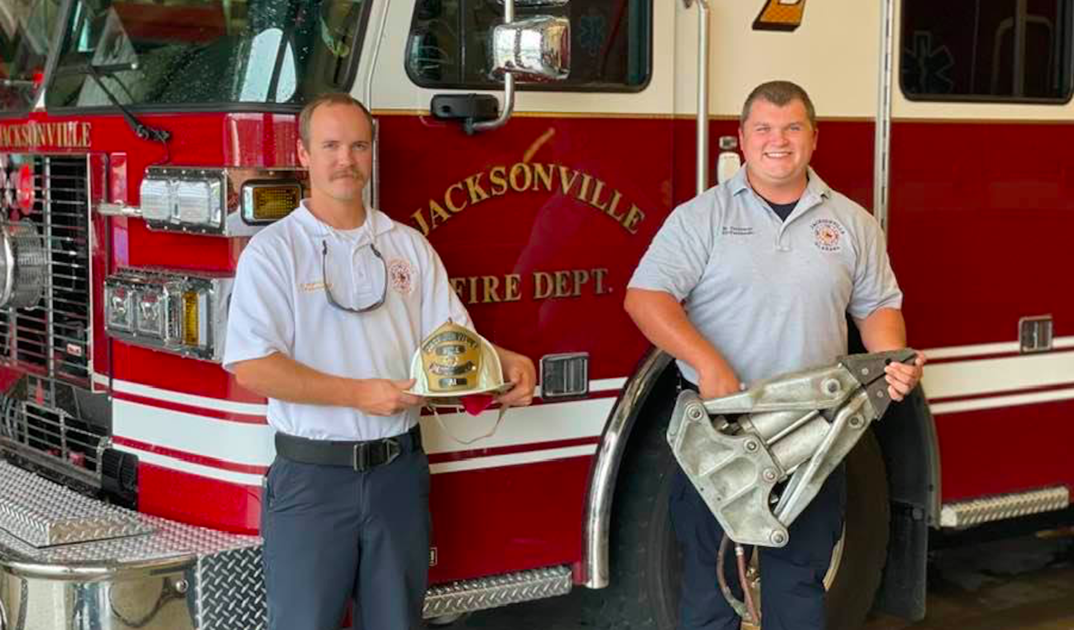 Three Jacksonville firefighters are asking the public for help in compiling a history of the Jacksonville Fire Department through artifacts and documents.
Matthew Hardeman, Hunter Horton and Seth Graham are asking Calhoun counties that have a connection to the Jacksonville Fire Department, past or present, to help them collect and preserve artefacts related to its history. The department – which was established in the mid to late 1800s, according to minutes from a former city council meeting – wants to create an exhibit of historical artifacts, photographs, documents and even personal letters or written stories.
"Sometimes when a firefighter retired he would take home his helmet or an obsolete tool," Hardeman said. "Now maybe the family doesn't know what to do with it."
Hardeman's interest in history and firefighting motivated him to help lead the project. He came to Jacksonville State University to study history. While there, he began volunteering in the fire department and changed his specialty, in part due to his familiarity with the career. Her father is a retired firefighter in East Ridge, Tenn., Outside of Chattanooga. Eventually, Hardeman graduated in emergency management and decided to become a career firefighter.
"We want to have historical artifacts for future generations of firefighters," said Hardeman. "Someday we hope to have a training center in Jacksonville and display these items. In addition, the project will help older firefighters learn more. "
Some of the tools the committee hopes to find include portable axes; pipe posts, which look like large hooks and are designed to pierce ceilings and lower ceiling tiles; conventional fire extinguishers, in particular of brass; and Halligan tools, which are forked on one end and have a flat bar and hook on the other end. They are used to force open doors and are named after the inventor, New York Fire Chief Hugh Halligan. It is the knowledge of a fact like this that reminds Hardeman of his passion for history.
"If people are not willing to part with their belongings," he said, "we would like to take pictures of them, and if they have any documents that they wish to keep, we would like to scan and scan them. to return. "
The committee is also interested in accepting stories about former Jacksonville firefighters that were written by their children or grandchildren.
"We want to maintain the tradition of fighting fires," said Hardeman.
Those wishing to bring items to the JFD can call 256-435-2310 and leave a message on the recorded line or send an email to [email protected]