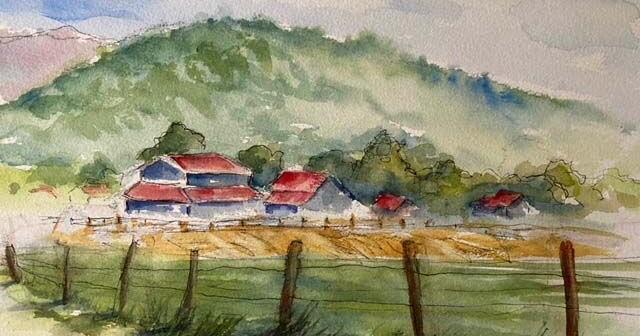 Start your holiday season with fun downtown for this first Friday. There is art to see, goodies to savor and mirth to be had.
Mark Engelien will be the featured artist of the Bakersfield Art Association Art Center. The retired architect's work was last showcased in March at Dagny's Coffee Co. and a recently concluded exhibition at the Houchin Blood Bank.
While at Cal Poly SLO, Engelien's studies included drawing, watercolor, and ceramics, mediums he continued to pursue as long as time permitted as an architect and full-time parent. .
During the pandemic, Engelien focused on watercolor as his primary medium, adding portraits, images of wildlife and nature alongside works on architectural subjects and urban spaces.
This exhibition includes new pieces as well as giclee prints of commissions, gifts and some of the artist's favorites that were not offered for sale.
A reception will be held from 4 p.m. to 6 p.m. at the Art Center, 1607 19th St.
At Dagny's Coffee Co., Charlotte White will present an exhibition featuring fresh watercolors created over the past two years in the studio as well as outdoor works.
After years spent along the roads of Kern County with her outdoor painting installation, the artist returned to the studio, switching from the oils of her on-site work to watercolors.
Painting in the studio after years of outdoor painting was a major change for local artist, Charlotte White. No longer being comfortable sitting along the roads of Kern County for 30 years, capturing the landscape and architecture of the area, resulted in a switch from oil painting to watercolors.
In addition to creating, White has remained busy during the pandemic teaching drawing and painting online, taking on the challenge of learning to use Zoom and document camera technology. She has taught high school students at Valley Oaks Charter School and adults at the Levan Institute for Lifelong Learning.
White's work will be on display throughout the month at the Cafe, 1600 20th St.
Lorene's (1531 23rd St.) is another downtown BAA partner, which features works by Iva Fendrick, including her performance of Rankin Ranch.
Fendrick's work will be on display at the restaurant until December.
Bakersfield Art Museum
In addition to the extended hours on Fridays, the Bakersfield Museum of Art will host an overnight Kern Voices exhibition featuring artwork designed by young people housed at Juvenile Hall. The exhibit is the result of BMoA's Museum on the Move outreach program offered at the PACK Juvenile Probation Institute.
As part of the program, a BMoA educator gives a one-hour art lesson highlighting artistic concepts and historical artists who can inspire students to create their own work with the art materials provided.
Guests can also participate in an all ages watercolor project during their visit. They can also see the current exhibition, "On the Edge: Los Angeles Art, 1970s-1990s, from the Joan and Jack Quinn Family Collection".
The collection of over 150 objects from nearly 70 artists presents a glimpse into the early days of the Los Angeles art scene and its iconic creators, including Ed Moses, Billy Al Bengston, Lynda Benglis, Peter Alexander, Frank Gehry, Robert Graham and Ed Ruscha.
There will also be a raffle for a chance to win a family museum membership.
The museum, 1930 R St., is open until 8 p.m., with the Kern Voices reception from 5 to 7 p.m. Free entry.
In your wildest dreams
In Your Wildest Dreams Consignment & Antiques (2819 F St.), which is moving to its new home in former Beverly's Fabric & Crafts, will add another supplier to the mix on Friday with the opening of 502 Coffee Co.
Previously, the coffee company made pop-ups, serving Guatemalan coffee and espresso-based drinks like dirty chai latte and choco-latte milkshake.
The café will open at 10 a.m. inside the building.
Browse items from the store's more than 60 vendors before meeting Santa Claus, who will be present from 3 p.m. to 6 p.m.
Another pleasure
Moderngigi Gallery (900 18th St.) is ready for the first Friday with live music from Crimson Skye and an exhibit featuring seven local artists, including painter Sonia Peterson (Sisu Art). Reception will be from 5 p.m. to 10 p.m.
The perch of the hens (1916 G St.) invites the community to support the Apple Core Project, which helps feed and support the needy in the community. Dancing Tommy will offer live music from 7pm
The American Legion Post 26 (2020 H St.) brought back their First Friday Fish Fry, which kicks off when the canteen (bar) opens at 5:30 p.m. For $ 10, choose fish and chips or wings and fries, both served with coleslaw and iced tea or water. Enjoy the wings and fish for $ 15. Reservations are recommended by calling 661-324-9453.
BottleShock Wine + Brew (1002 19th St., Suite C) will have such an epic Christmas party that it will be held on two consecutive nights. Venessa and Silo will be offering live music from 7 p.m. to 9 p.m. and Zepeda's Stone Fire Pizza will feature pizzas.
Stefani Dias can be reached at 661-395-7488. Follow her on Twitter at @realstefanidias.