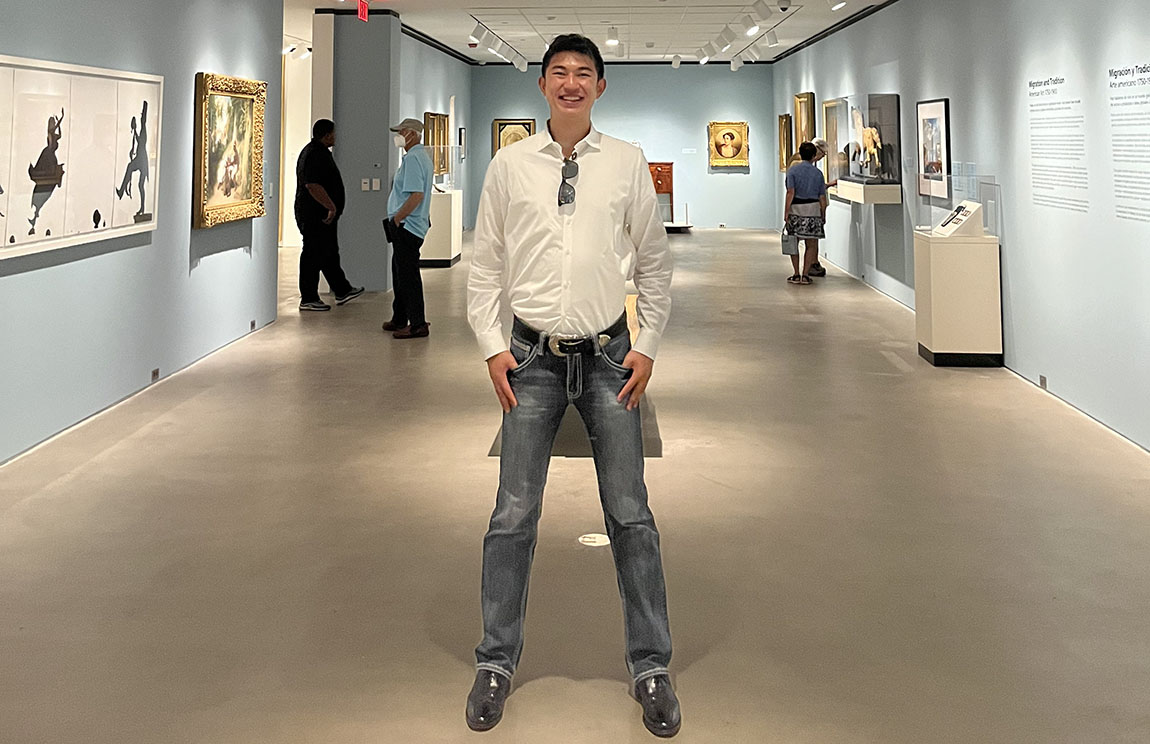 A practical internship in the city center opens the doors to a higher school
Working at the Allentown Museum of Art gave Yuyang (Hector) Chen '23 valuable experience which he will bring to a master's program in art business.
From: Meghan Kita
Thursday, October 20, 2022 3:55 PM


Yuyang (Hector) Chen '23 at the Allentown Museum of Art
As a teenager in London, Yuyang (Hector) Chen '23 visited the city's art galleries and developed a deep appreciation for Renaissance painters. As an intern at Allentown Art Museum this summer, he was able to see such works every day.
"They have a very, very good collection of Renaissance artists," says Chen, a history major and studio art minor. "And it's a completely free gallery. It used to be $5, but the museum recently got a grant. It will remain free for a very long time. It really opens up community engagement [opportunities]."
Chen worked as a curatorial research intern, an opportunity he learned about through art teacher Margo Hobbs while working as a writing associate. A big part of his internship was designing an iPad experience for visitors to guide them through newly relocated American art galleries.
"I was given all kinds of freedoms," Chen says. "I was told, 'You can do whatever you want to educate people when they look around the gallery. ""
As he read the research papers for each painting, he began to see connections between the artists – some trained by the same professors, for example, or crossed paths in major cities. He came up with the idea of ​​using mapping software he had learned while doing a project with Special Collections and Archives Librarian Susan Falciani Maldonado to chart each artist's journey and show their intersections. The interactive iPad experience, "America's Globalization," is now in use at the museum.
"I gained valuable first-hand experience on curating exhibits, how to conduct research in the museum world, and how to present my research not only to academics but to the general public," Chen says.
Chen is currently completing the study of Muhlenberg Semester in Washington Program, internship at Kiplinger in DC He will graduate a semester early, in December, and begin a master's program in art business at Sotheby's Institute of Art in the spring. Hobbs recommended the program and put Chen in touch with Samantha Schoenbart '13, who completed a master's degree at Sotheby's and now works at a major auction house – a career path Chen is interested in for himself.
While Hobbs was a key mentor this year, Chen enjoyed close relationships with professors throughout his time at the College: "Every professor I worked with at Muhlenberg — all my history professors, the professors of art, every teacher I've worked with — has been great," he says. "All the faculty members were very helpful and without them I would not be in the position I am in today, so I greatly appreciate their work."