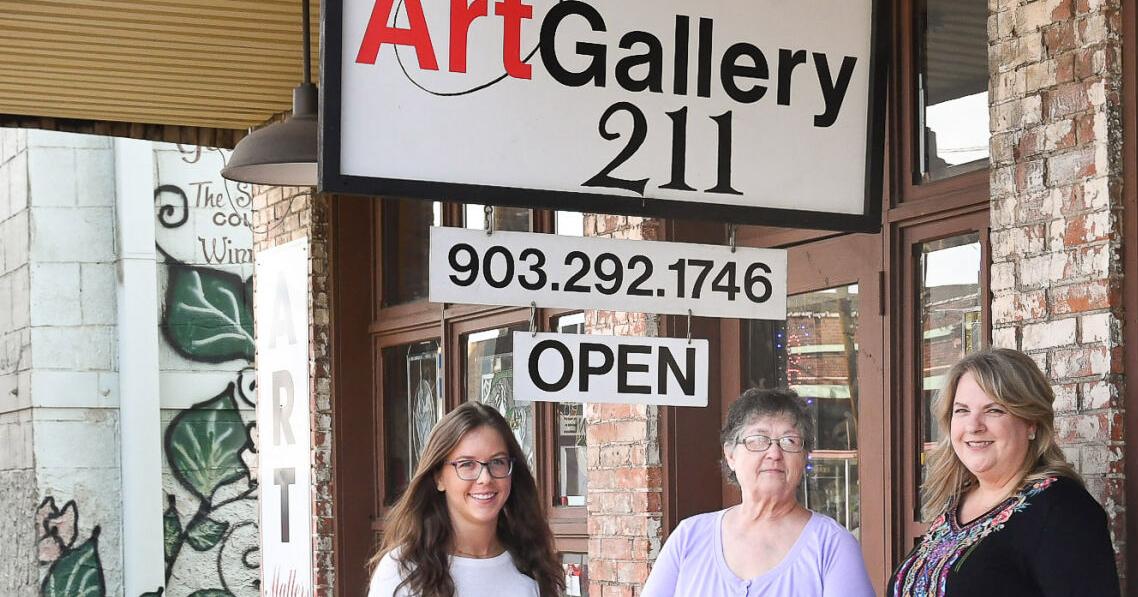 Alison Neighbors from Kemp and Audrey Jeanes from Canton are featured in a new exhibition at 211 Art Gallery in Athens.
The show is called Colorful Moments and is open until January 1. The students were paid by an anonymous donor.
"Every time I found out that a donor wanted to refund my fees, I was shocked and didn't know how to react," Jeanes said. "It's not something anyone has ever done for me. I participated in a few school exhibits at my alma mater UT-Arlington and participated in an exhibit at a gallery not affiliated with the school. I know there were donors covering the cost there, but that never happened to me. I was shocked and didn't know how to react. Whoever it is, thank you very much and September won't tell me.
Neighbors said news of his acceptance was kept secret.
"I haven't spoken to them yet," Neighbors said. "Audrey and I were talking about you have to sign your work and title your work. You never think it's good to start, so it's very difficult to get a title. I think as we become more secure in our work, we will be more comfortable giving our work a title.
Jeanes said feedback on her plays has been positive so far.
"I posted about it on my Instagram and a lot of my friends at UT-Arlington are happy that I'm being shown at other places," she said. "I know my family is very happy about it and I got great feedback and responses from everyone around me."
Neighbors and Jeanes are members of Studio Arts Instructor September Kirk's art classes at Trinity Valley Community College this semester.
"I'm proud of Alison and Audrey! They've worked so hard this semester and seeing them accepted into an outside show is exciting," Kirk said. "One of the gallery's in-house artists, Virginia Reeder, came as a guest speaker following her participation in the exhibition and I am grateful for the opportunity to build this relationship with the community. C what a community college should strive for, right?
Neighbors has an abstract piece in the show, while Jeanes has two pieces from when she was a student at the University of Texas at Arlington.
"Those were two drawings I did at UT-Arlington, and we had a day in my drawing class where you had to choose what you see in the room and draw it," Jeanes said. "I'm really into skeletons and facial features. I think that can say a lot about how we are as skinless people. I did them in 30 minutes and a lot of fun doing them.
For Neighbours, the focus of his painting was acrylic on paper.
"It had been done a short time ago, but I had done a pour of paint, which I thought was very interesting to see the flow of the paint," Neighbors said. "I used it as inspiration to get the flow of it and extend it with color."
The mission of Gallery 211 is to support, stimulate and encourage artists by providing an exhibition gallery open to the public, providing opportunities to participate in judged art exhibitions and offering art exhibitions and courses .
It's a 501(c)(3) which is a big reason Neighbors wanted to see how to get accepted onto the show.
"It's exciting because you had to be accepted by a jury," she said. "I've never been accepted through this process before. The lady at the art gallery (Virginia Reeder) is very helpful. The best thing about it is that it's a 501(c) ( 3), it is therefore a non-profit organization.
They also aim to educate and they made the process so easy. They explained it to you and gave a demonstration on how to prepare our work for the gallery. Not only was I able to give a presentation, but I had help throughout the process to learn how to do this.
Jeanes said she was looking for a smaller gallery when she decided to take the plunge.
"I had looked at a few art spaces in Tyler and didn't know there was one here in Athens," she said. "I thought I would come down and check it out and went there before applying for the show. I told him it would be a good place for me to try and show some work and that it's local, community-based and only 30 minutes from where I live. I wanted to focus on the small galleries and not go to the big ones.
The neighbors and Jeanes both praised Kirk for helping them decide to come on this show.
"September was very good for teaching skills," Neighbors said. "The most important thing is knowing how to see things in your mind. I think the most important thing I learned from her is that when you draw or paint something you have to shut down your brain and say okay this is what a hand looks like and just look at the shapes you draw. It was amazing for me and I am a Gold Card member being a retired teacher and decided to go back to school.
For Jeanes, the decision was hers on her submissions, but Kirk impacted her in more ways than one.
"It was my choice in what I submitted, but September has already had a huge influence on me. I came here for a year after graduating from high school and took classes with September Jeanes said, "She helped me figure out what I wanted to do in the art world. I would like to teach like September. She helped me set things up when I applied for UTA and she helps me to apply for a masters program.In terms more as a person and on the business side of art, she influenced me a lot.
Neighbors said visiting the gallery before the show and presenting the cards with Jeanes was huge.
"I'm delighted that Audrey joined us. I went to visit the gallery and spoke with Virginia about taking the class," Neighbors said. "She is also a retired teacher, so we had a connection. I received cards and presented them to the class and there are so many talented people in there. Audrey bit and submitted and I'm so glad she did. I hope this will encourage others to do the same.
Jeanes said don't be afraid to submit and see what happens. She also learned other tips to help her in the future.
"The most important thing is knowing how to present my work. I've never had to frame my work before. I provided the glass and they will put the design underneath," Jeanes said. "The people at the gallery told me they would show me how to hang them and frame them. Definitely, learning how to better show my pieces to show or get answers is important to me.
I know it can be scary to submit your cases and have them not accepted. I would say go for it if you feel you have a piece that can match whatever this gallery is trying to say right now.
The gallery is located at 211 N. Palestine St., just around the corner from the Henderson County Courthouse. The gallery is open from 11 a.m. to 5 p.m. Wednesday to Saturday.