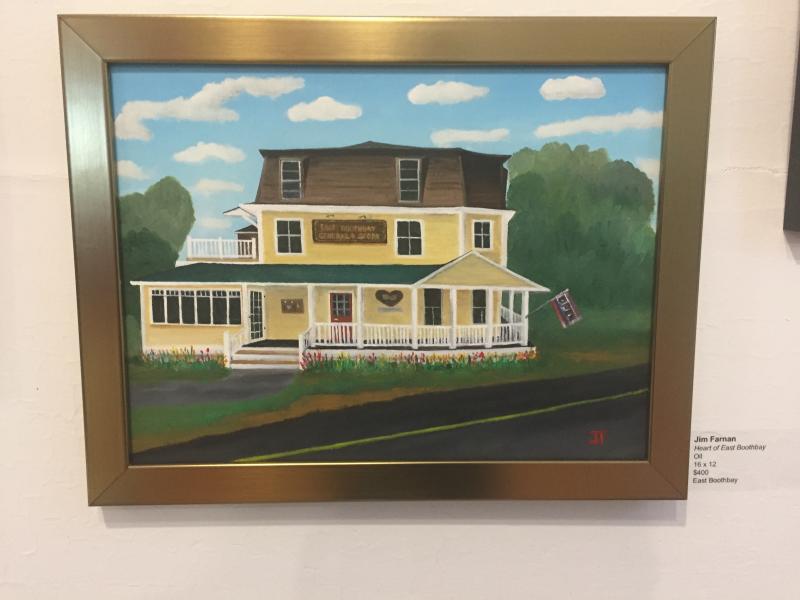 I went to the opening reception for the Maine Art Gallery's final exhibition of 2022, "Made In Maine", last Saturday. This gallery is located in an old brick house on Warren Street in Wiscasset and the shows always stimulate the imagination and intellect of every viewer.
Set over two floors, with cool wall partitions in different colors in the rooms, I always feel like I'm walking through a much bigger space. And while I was doing that, I ran into artist/curator Mark Coates. Mark is a past president of the Boothbay Region Art Foundation here in the port. I naturally started asking questions about "how" to snag the show – which isn't as easy as you might think.
"It's such an eclectic work group. There's a nice balance between abstract, non-subjective art and traditional work," Mark said. "And there are some interesting carvings – assemblages, welded steel, granite. We try to place things so that when you come around the corner, you see something that surprises you. This gallery is one of the most beautiful spaces in the state.
Coates said there were 125 works of art in this members exhibit, "Made In Maine" by 77 or 78 artists. Each artist submitted two works for the exhibition.
There were a lot of songs that appealed to me. This is the fun part; Magic.
Edward Scott Elliot: The first is his mixed media "Fish House Town Meeting". The deep colors, the black outline of the buildings… but it's the variations on the houses and what's inside… some are photos of fishermen, fishing families, dwellings, nature – scenes of water, chubby tits in the trees… And each building housing these images are all linked. When you live in a fishing community, everyone works there together and is affected by the outcome of each season. I guess this really hit home due to the ongoing nightmare our lobsters/women continue to face regarding the persistent claim that their gear is impacting right whale mortality. This work of art connects the past and the present with the future. What will it look like?
The other piece by this artist is "Electric Dooryard"… damn that invisible fence! A woman carries a rooster on her arm, its tail rests on her arm. Her ponytail extends directly behind her while the hair on top of her head stands "shockingly" on end. The bold orange-red background with the blues, yellows and gold colors just…catch the eye.
A shadowy world after a rain captured in Donna Barnako's "Evening Stroll" was intriguing and inviting: I wanted to project myself into the painting as I walked just behind the trio on the right to hear about the opera or ballet they were perhaps had just lived.
The pen and ink drawing, "Smoke Break", caught my eye upstairs. I could identify with the moment: a young woman seeking – and just entering – total relaxation mode. She looks like she's in a child's paddling pool…perhaps a young mother who has finally put her child to bed and is slowly smoking her joint. And, something in her facial expression and limp body tells me she's just entered her happy place.
I couldn't help but ponder the difference between today's "mother's little helper" and the pretty blue pills prescribed to moms in the 50s and 60s to help them cope. Can you hear the Stones' "Mother's Little Helper" right now? I did it. Or, perhaps the woman is in her own paddling pool, which with closed eyes becomes the edge of the ocean, she lies there listening to the calls and cries of the seagulls, the waves rolling on the shore… the sun on his face…heaven!
Those of you who read my column with any regularity know that I can get carried away with this "jumping in the paints" thing that I do. It's not planned, it's just my way of reacting to art.
Anyway, there are some great carvings in the show – there's the "Harvey" Davidson motorcycle (4″ x 8″ x 2″) made of steel, sewing machine parts, and car parts by Chris Bissett. He also used steel to make "Rust Patina Topographic Globe" – illuminated from within. Chris could easily market these topographic globes if he wanted to.
John Catizone's silky smooth Hilburn granite shark's tail, "Circling" is a real beauty – and, with the exception of the dogfish head sharks we used to have at the Maine State Aquarium – I hope the only shark tail you touch. And you will be moved to do so – that's how much stone carving affects us.
Watch, this dynamite show runs until October 22, but don't wait until the last minute! Did I mention that six pieces sold out at the reception? Maine Art Gallery, on Warren Street in Wiscasset, number 15, is not in the center of the village, but it's worth the extra two minutes to get there from Main Street. The gallery is open Wednesday to Saturday from 11 a.m. to 4 p.m.
And don't rush through the two floors. Art should be savored. Considered. You have trips to take – and your imagination is your passport.