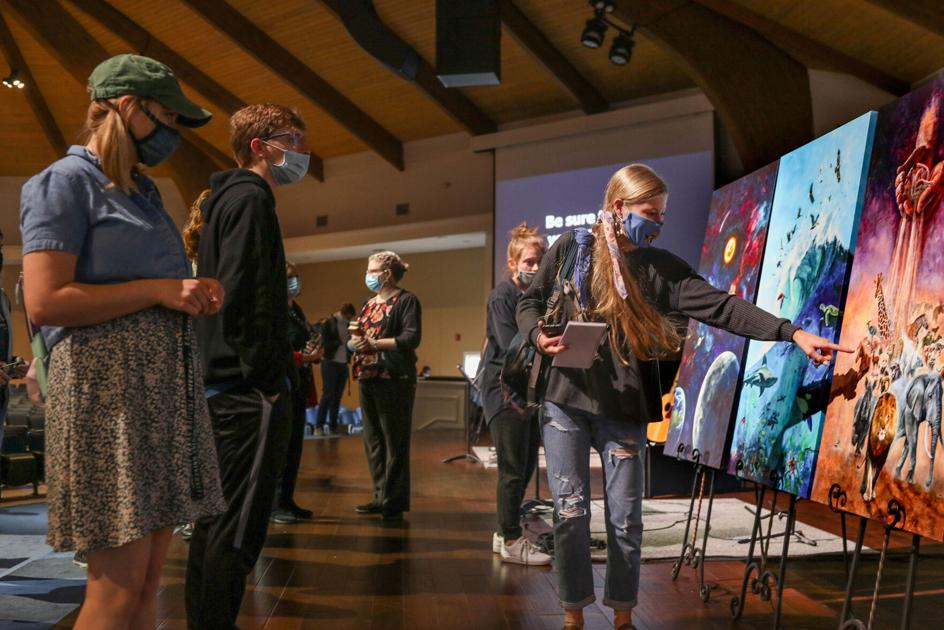 Artist Rachel Wimpey visited East Texas Baptist University on Monday, November 15 to present her art as a gift to the university and speak to students during chapel. Wimpey is a dynamic artist, teacher and former gallery owner from Tulsa, Oklahoma. The work, now on full-time display at the University, features "Let There Be," a series of 7 panels depicting the Genesis account of God's creation that was originally commissioned for the Institute for Creation Research of Dallas, as well as two individual works titled "All I Have," a representation of The Feeding of the Five Thousand found in John 6, and its genius "Lion of Judah".
"Nothing is more powerful than the Word of God," said Wimpey. "How do we know that? We see it in Genesis 1. When God speaks, everything changes. The atmosphere, the molecules, everything is in harmony with what He says. I really learned the power of God by doing this project. We have to work very hard to get it right. I worked for two years on this project. God, in an instant and in a nutshell, creates whatever He wants. The power that we have is based on His Word. Looking at these works of art here at ETBU, I want you to remember them. I pray that it will stir up faith and hope for you and remind you that nothing is more powerful than Word of God.
After graduating from Dallas Baptist University in art, Rachel worked as an executive assistant at the Museum of Biblical Art in Dallas. A love of the art history and study of the Old Masters, as well as travels through Europe, Asia and South America, provided the framework for his style and direction . Prints of his biblical pieces can be found in churches, offices, homes, and community spaces around the world, including Brazil, Peru, South Korea, Ghana, Germany, and England. For the past 11 years, she has used the medium of painting to represent spiritual realities and spiritual truths, which is evident in her work centered on biblical themes.
"I tell you that the world needs Jesus," she continued. "I have been around the world. We have an answer, and we have the truth, and it's our job to share it. It is time for God's people to rise up and stand up for the truth. And just because you're in college doesn't mean you have to wait until you graduate or get a job to take a stand. You can do it now, and we need you now.
Rachel Wimpey's subjects range from historical to biblical to portraiture in a contemporary impressionist style. His work in oils, acrylics and watercolors can be found in collections across the country, including a five-panel mural at Oklahoma Baptist University, a three-panel mural at his alma mater commissioned by ETBU President J. Blair Blackburn, and now several pieces on display at ETBU. "Let There Be" will be on display at the Great Commission Center in the Creation Gallery on the third floor. 'All I Have' will be prominently displayed in the lobby of Harvey Daniel Bruce Hall, the ETBU School of Education, so that all who enter the building are inspired to give themselves fully to Jesus, and " Lion of Judah "will be placed in a prominent position on campus to allow students, faculty, staff and all visitors to the university to marvel and reflect on the power of the gospel of Jesus -Christ.
"I couldn't be more proud to display Rachel's wonderful depictions of our creator's great works here at East Texas Baptist," said Dr. Blackburn. "I am convinced that his art will serve as a constant reminder of the power of the Word of God and will stir in our hearts an urgency to stand up for his truth from the Word of God, not only here in East Texas, but around the world as we will serve from the Hill at ETBU and beyond. These rooms will add significant meaning to our campus, particularly in the future home of the "Lion of Judah", the Great Commission Center / Fred Hale School of Business building and HD Bruce Hall.