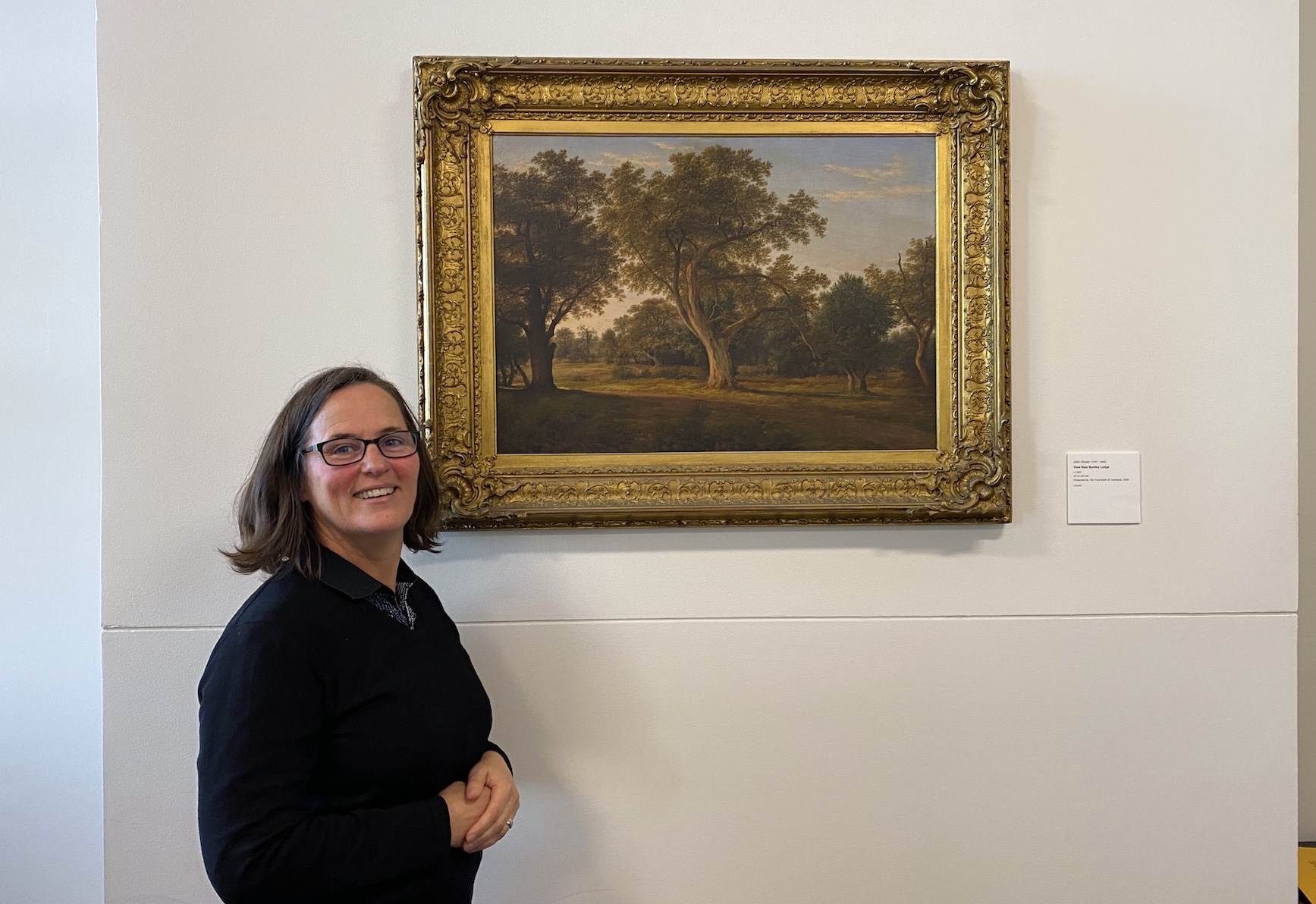 Although Mary Mulcahy was not born in Tasmania, she has lived there for a long time. This is why her recent appointment as Director of the Tasmanian Museum and Art Gallery (TMAG) is so welcomed. However, the decision was not part of the big "reshuffle" brought about by COVID. On the contrary, it unifies many aspects of his career.
"I worked as a scientist, but I worked more as a science communicator. I also have a passion for art, so it's kind of a pretty package tied with a bow," she told ArtsHub.
If there was ever a testament to the connection between art and science, it was Mulcahy's reaction to a painting in her office when she was interviewed for the job. "I got halfway to the gate and it stopped me in my tracks. I just said, "do I think it is?" Yes, it's a Glover. It's pretty amazing,' Mulcahy said of John Glover View near Byrkley Lodge (c.1820), which hangs behind his desk.
'My mother always told me, it [Glover] obviously just painted trees as they are painted in Europe. But you know, the land was regularly burned and it was managed, and we saw trees like that grow on their own," she continued. "It's interesting these anchors that connect you to why you do what you do."
TMAG combines a State Museum, Art Gallery and Herbarium which houses the Tasmanian State Collection. It collects and preserves material evidence in the fields of the humanities – the visual arts, history and anthropology – and the biological and physical sciences.
Mulcahy explained the difficulties of finding this right balance: "I've always seen museums as really interesting places to work. And the thing about TMAG is that it's one of those places that's pretty unique because it's a combination of a museum and an art gallery.
Just seven weeks later, Mulcahy says she views the top job at TMAG as a 'stewardship role on behalf of all Tasmanians'.
Mulcahy is convinced that science can be very creative, "especially the reflection on experiments and investigation", adding that for her, "it is this bundle that TMAG offers, which brings together the scientific collections but also the history and society, put together – it's a truly holistic organization.
"Over the years, from when I was a very small child coming here with my mother until I returned as a visitor, it always seems to be balanced in the representation – in the exhibits and the content on the floor – for really give this holistic approach a truly Tasmanian experience," she added.
It is this authenticity or meaningful experience that Mulcahy plans to cultivate during his tenure.
Develop the learning experience
Education is a big part of Mulcahy's experience, so we asked her about her goals for developing the learning experience at TMAG.
"I'm really interested in the 'T' in TMAG, because we're not the Hobart Museum or that guy with the Hobart Museum Gallery," Mulcahy said. "Someone told me there are about 240 small museums or art galleries in Tasmania."
"Through partnerships and innovative programs, I am interested in how we really work together to ensure that a Tasmanian story is accessible to everyone, wherever they live," Mulcahy continued.
'I guess the thing for me is if we can engage and connect with the people on the northwest coast [of Tasmania], and manage to do it effectively – and authentically is probably the word I'm going to use – then we could reach anyone in Australia; anyone in the world. I'm interested in doing this and doing it in a meaningful way," she told ArtsHub.
Shaping a new future for TMAG
TMAG recently spent a lot of time communicating its upcoming Strategic Plan (2021-2024). It was released after the organization issued an apology to Australian institutions to Tasmanian First Nations (February 2021), which significantly fed into and shaped the institution's plan for the future.
Read: TMAG's apology to Tasmanian Aborigines
Mulcahy said of the plan for TMAG: "The priorities in the strategic plan speak to the crucial role that engaged and involved communities will play in the future of the organization. I think we are all stakeholders. And I think that's essential and it's going to be essential for the future of TMAG.
"But also thinking in the post-COVID context, and what that means. The government has a cultural and creative recovery strategy. I think community engagement will be part of that. What can we bring to the table in conversations that are informed by scientific and cultural knowledge, and I guess planning for the future?
"It's very limited by this building, to really have these conversations that resolve this kind of vision, so I'm very interested in tearing down the walls," Mulcahy added.
Mulcahy believes that it is not just TMAG's unique blend, but also serendipity that makes an institution successful.
"You add serendipity, and it actually allows for these kinds of things that otherwise wouldn't have been together, and wouldn't have brought people with all these different interests together." Mulcahy spoke of when the French Antarctic Expedition isolated itself in Hobart, and TMAG worked with local schools to connect with them via a postcard project.
It's that human side. I think there is a huge opportunity for this role that TMAG could play, defining its own future through the conversations that come, and these opportunities created [fusing] the social, with science and art, she says.
Mulcahy said she was also "interested in unpacking what it potentially means around restorative tourism as well", speaking of a program started by New Zealand and a number of other countries to ask their visitors and tourists sign up to act responsibly when visiting, and then share those experiences.
'That sort of thing is really about how you act when you're in the country, and what that might mean as a guest I, the experience they choose, the things they buy – how people seek out service as a way to give back," she continued. 'It's a really interesting idea, this community compensation, and renewal. I think there's a lot of space for us to tap into the pulse of what people are feeling today in many ways.
Values ​​for the next chapter of TMAG
Mulcahy says she hates being micromanaged. "I don't like being the captain and making captain calls. I much prefer working with a management team," she told ArtsHub.
I'm also very interested in this idea of ​​servant leadership. I would much rather stand as far back as possible, but I'll stand right in front if there's a problem.

Mary Mulcahy, TMAG Director
Working in science and education, Mulcahy said one of the interesting lessons learned is that, '[while] communicating is fine, but communicating when appropriate is probably better. Communication can sometimes be quite destructive when it's too early or too much; it can be destabilizing.
Regarding the movement of staff levels at TMAG, Mulcahy told ArtsHub: "It's always difficult. You know, you have a budget that you have to stick to, but we always have a good number of employees.
"At the moment we have a few vacancies in the team, so this is an opportunity for the management team to look at that balance and ask how does it work? And what does that look like in a sustainable model? »
While with CSIRO, Mulcahy led a team that managed to raise $100 million. She noted that the funded project had a national footprint. "When I first started talking to people, I hadn't realized how important that national footprint was, especially with companies that also had a national footprint. And so it's an alignment.
"The other thing was how CSIRO actually measured the impact. For example, how are we going to take the research and then translate it into something that benefits Australia?
We took that thinking and put it into the education team and started looking at how do you evaluate education programs? And it's difficult because you can't put a student in a bubble and then nothing else influences them all their life.
We started collecting evidence on what worked, what didn't, and we learned a lot. So we're able to say, "Look, I can't do this, but we can do this." Those conversations early in the relationship actually meant we were delivering because you can see where the money translated. I'm interested in [exploring] than in the context of a museum.
Who is Marie Mulcahy?
Mulcahy spent his early childhood in the west-central highlands of New Guinea, which sowed an earthly curiosity about the world. This warm and casual attitude is felt immediately when you meet her.
Prior to TMAG, she led stakeholder engagement for the development of the National Research Infrastructure Roadmap 2021 with the Department for Education, Skills and Employment and CSIRO's response to modern manufacturing strategy.
She served as CSIRO's Director of Education and Outreach from 2015-2020, managing a team of over 100 people to deliver education and engagement (STEM) programs to teachers, students and the community. . Under his leadership, the team dramatically changed its business model, doubled in size and secured $100 million in external funding.
She has also held senior communications positions with CSIRO, Sydney University of Technology, Questacon in Canberra and Petrosains in Malaysia. She has worked as a freshwater ecologist and taught in secondary schools.