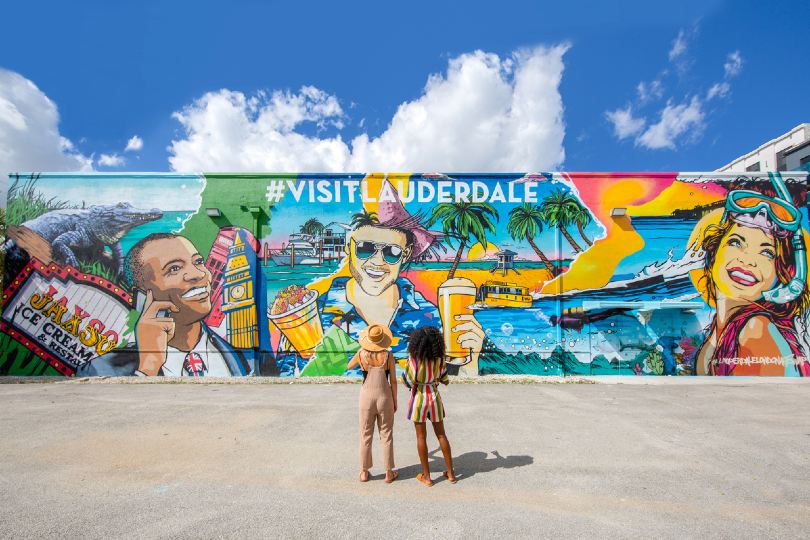 SPONSORED ARTICLE
While Florida is famous for its exhilarating theme parks and enticing beaches, the Sunshine State also boasts a wide array of museums, cultural attractions, and art.
---
Charlotte Cullinan
Content Writer
---
Charlotte Cullinan
Content Writer
Graffiti and street art can be found across Florida, with many public murals in Fort Lauderdale
The variety of rich experiences and cultural landmarks across Florida is ideal for older families looking to inject a dose of education into their stay, alongside couples eager to explore and learn.
With over 500 museums in the state, there's an option to suit every customer's interests. At the Daytona Beach Museum of Arts and Sciences, visitors can explore a sprawling art collection, vintage vehicles, and one of the largest collections of Coca-Cola memorabilia in the world. At the Ernest Hemingway Home and Museum in Key West, they can learn the story of one of America's most legendary authors.
Other must-see attractions include the Phillip and Patricia Frost Museum of Science in Downtown Miami's Museum Park neighborhood, with four floors of interactive exhibits. While ideal for families when they need a break from the theme park queues, the three-level aquarium, planetarium and urban rooftop garden will attract guests of all ages. ages.
And for customers looking for something original? Recommend a visit to the St. Augustine Lighthouse and Maritime Museum, where they can climb to the top of the lighthouse by day or join an after-dark ghost tour in the evening.
Lively art scene
The Perez Art Museum Miami has plenty to appeal to families and couples
There are a slew of artistic neighborhoods across Florida where guests can learn about local artists and even purchase an artistic souvenir of their trip. Stroll between the galleries of Duval Street in Key West or browse the eclectic galleries of the Design District in Miami. The 10-acre Railroad Square in the state capital of Tallahassee has more than 70 studios, galleries and small creative shops.
Guests should head to the Perez Art Museum Miami to see international works from the 20th and 21st centuries. Recommend the guided tours, which cover the museum's collection, architecture and gardens. On the second Saturday of every month, families can take an interactive tour and create their own art, and advise couples to drop by on a Thursday evening for a late-night opening with drinks at the museum's waterfront bar.
Art lovers should also visit the Dali Museum in downtown St. Petersburg, which houses Salvador Dali's largest collection outside of Europe in a fantastical building dotted with huge bubbles of glass.
Other notable art havens include the Ringling Museum of Art in Sarasota, where a Renaissance-style pink palace houses 21 galleries. At the Cummer Museum of Art & Gardens in Jacksonville, visitors can marvel at more than 5,000 works of art and stroll through the historic gardens.
ART IN NATURE
The perfect Instagram backdrop is never far away in Florida, thanks to an abundance of outdoor murals
Florida is also home to an extensive collection of graffiti and street art, which are popular backdrops for Instagram selfies. To immerse themselves in the medium, direct customers to Wynwood Walls in Miami. Over 50 artists covered 80,000 square feet of walls, creating an ever-changing outdoor gallery.
Key West is another street art hotspot, with murals and artwork spread across walls, buildings, and even vehicles. Guided walking and biking tours are available for guests eager to see Florida's most famous works of art and learn about the street art movement.
Guests can take in views of Miami from the roof of the Phillip and Patricia Frost Museum of Science
A CREATIVITY CALENDAR
Throughout the year there are several high level artistic events. The Gasparilla Arts Festival is held the first weekend in March and features works of art in all media, including ceramics, digital, drawing, glass and sculpture, complemented by performances, activities and food.
miami beachit is Art Basel The modern and contemporary art fair takes place at the beginning of December and presents the works of the main galleries of the five continents. Dozens of satellite fairs are running simultaneously, including Design Miami/, which focuses on furniture, lighting and modern art objects.
Florida's culture, history, and art can easily be combined with the state's world-class theme parks and beaches, and can also inspire an entire itinerary.
Ensure guests realize the breadth of activities and attractions available across the Sunshine State by painting a picture of the vibrant arts scene and captivating museums waiting to welcome them.
next article

Focus on the future with WTM London