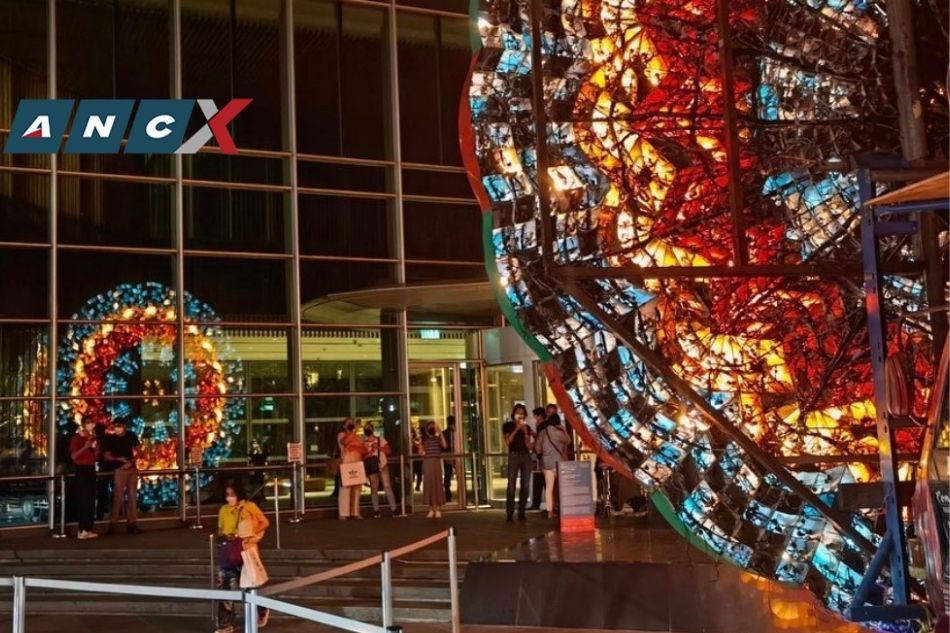 Culture
Remind us of our history, our culture, our identity, that's what.
ANCX staff | March 26, 2022
If you were locked at home and passed by the Ayala Museum until April 1st, you would probably think that maintenance has not yet taken the time to remove the Christmas decorations from the building. But in fact, the giant floor facing the institution right now is an art installation by Filipino light and media artist James Clar.
The 20ft lantern is part of the ongoing 9th edition of Art Fair Philippines, and based on the description from Silverlens Galleries and Ayala Museum, the main presenters of Clar's installation, it is not intended to give your Christmas that "warm and fuzzy" feel, although you're free to feel that way too.
The work is titled "I Can't Tell You What I Don't Know, Only What I Don't Know", and Clar worked in conjunction with the Santa Lucia Giant Parol Maker Team in San Fernando , Pampanga. It aims to visualize the endless process of making sense of our country's language, culture and history.


"The cylinders, which trigger the lights on the massive 20-foot-diameter parol, are wrapped in a written version of Lupang Hinirang," the Ayala Museum explains on Instagram. The lantern is designed to appear as a gigantic brain "whose gears can be seen as the spinning cylinders in the giant floor. The information processing drives the lights like firing neurons in the brain.
"Through this process, all people born in the country or abroad, including cultural workers, all have a role to play in the perception of who we are," says Silverlens.
The giant parlor will make you think about your cultural makeup, or maybe it will just trigger that warm, fuzzy feeling until April Fool's Day. In addition, it only lights up every half hour in the evening from 6 p.m. to 8 p.m. Go check it out but don't expect to see a bibingka and puto bumbong stand near the area. (Although that would have been a good idea.)
[The Ayala Museum is located in Makati Avenue corner Dela Rosa Street, Greenbelt Park, Makati City.]