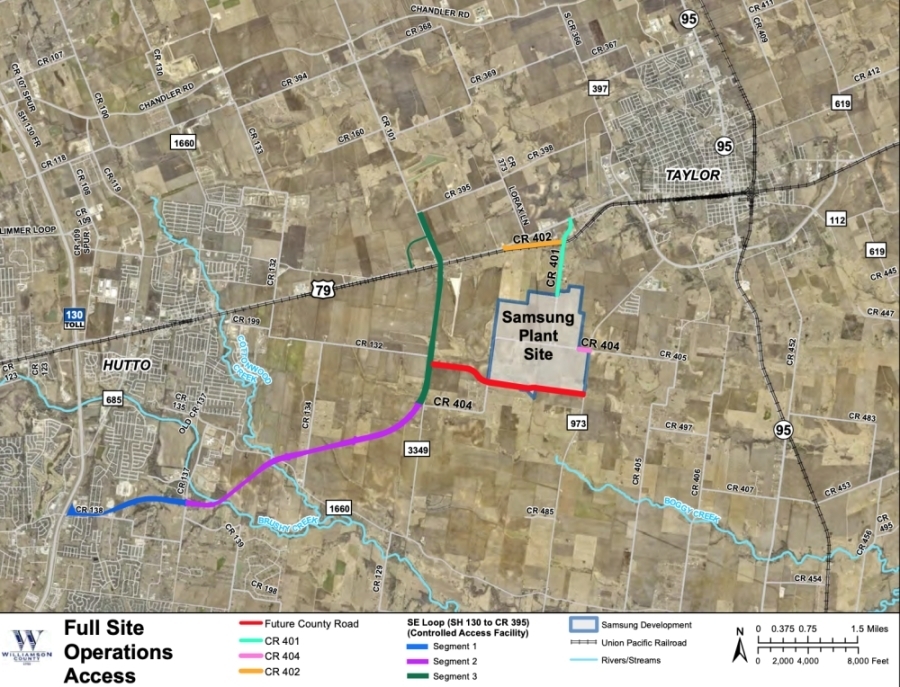 The proposed location for the Samsung plant in Williamson County is shown. (Courtesy of Williamson County)
Read the top business and community news from the past week in the Central Texas area.
Williamson County
Williamson County convenes special meeting with Town of Taylor to discuss approval of $ 17 billion Samsung project deal
Documents show the plant would be built at Taylor ISD, southeast of the highway. 79 and west of FM 973 to CR 401 and CR 404. Plans show additional roads being constructed to access the plant and SH 130.
Cedars-Leander Park
A cava restaurant now open in Cedar Park
The menu includes customizable bowls, hummus, pitas and more. Cava replaces the now closed Zoës Kitchen.
Northwest Austin
Work Underway on Affordable Housing in Far North Austin
Ohio-based developer PNR Group started construction of a new multi-family complex this will add 275 affordable housing units to the far north of Austin and Williamson County.
Round rock
P. Terry's Burger Stand arrives at Round Rock
P. Terry's Burger Stand arrives in Round Rock at 2201 I-35, although no opening date has been announced.
Round Rock Premium Outlets Disney Store will close no later than September 15
The Round Rock Premium Outlets Disney Store at 4401 N. I-35, Round Rock, is expected to close by September 15, according to the Disney Store website.
Joe Warner, Taylor Girtman, Iain Oldman, and Brooke Sjoberg contributed to this report.